Welcome to the October edition of our monthly newsletters! 
The nights are drawing in but there is plenty to keep you busy.
We'd love to tell you more about roles that are available for you to volunteer today. If you need to speak to a member of staff, you can book an appointment here
Our colleague Deirdre McNicholas will also be available at Lucan Library on Thursday 19 October from 2pm to 4pm.  Why not drop by and say hello if you are in the area!
New Volunteer Roles Available
Liffey Sound FM produce quality programmes and documentaries for all tastes, young and old and are holding church gate collections to ensure they can continue to broadcast to the local community.

Pieta's flagship fundraiser, Darkness into Light, is scheduled for Saturday, 11th May 2024, across various locations in the country. In preparation, they are officially seeking volunteers with expertise or interest in social media management.

Bloomfield Healthcare is a leader in the development of responsive, innovative, and excellent services for people with mental health needs. They are looking for volunteers to support residents to engage in group activities

Join the festive community of Lucan St. Patrick's Day Parade as a Committee Member. They need a volunteer to increase the skill set of the organising committee and bring in new ideas and energy.

 
This months volunteer story
Anu's Volunteering Journey
Volunteering is a selfless act that stems from the desire to make a positive impact on the lives of others and the community at large.

My volunteering journey began from Ashtown in 2007. With a young family and a new place, I sought out mother and toddler groups as a way to connect and contribute to my new surroundings. Once introduced, I started volunteer four days a week across three different mother and toddler groups. This helped me to engage and create positive environments for both parents and young children.

Upon my move to Adamstown in 2010, I faced a lack of available mother and toddler groups in the vicinity. Instead of merely accepting this absence, I took the initiative to establish a mother and toddler group in my new community.

Later, I joined the Parents Association of Adamstown Castle Educate Together National School (ACETNS). As a part of the Parents Association, I helped organise various events such as bake sales, movie nights, disco nights, and an afterschool club. These efforts brought the community closer together with educational and recreational experiences for the children. It was a very satisfying experience for me to be able to give back to the community.

Adamstown Summer Camp and Winter Fair were a significant milestone in my volunteer journey. Recognizing the need for engaging activities for diverse children, I participated in the initiative to organize these events. We provided opportunities for children to learn, interact, and have fun and foster a vibrant community.

In 2018, I saw myself becoming a founding member of the Adamstown "Blue Connect" group. The group focussed on kids with Neurodiversity. We ran weekly classes on Friday afternoons with fun & creative activities.

The arrival of the Covid-19 pandemic posed unprecedented challenges to volunteer activities and community events. Currently, I am volunteering with Foróige and have also signed up on www.i-vol.ie

I love working with children and find it as an immensely satisfying and enriching experience. I have a passion for giving back to the community and I am always on lookout for community engagement and making a positive difference. For me volunteerism is not just an action but a way of life, one that shapes communities and enriches lives.
Do you know a volunteer who deserves recognition?
The 2023 Volunteer Ireland Awards are now open for nominations! Every autumn people from all over Ireland nominate their neighbors, family, friends, colleagues and community supporters for the chance to win a Volunteer Ireland Award. you can nominate someone until Sunday 8th October. It's quick and easy – just click the button below to get started.

The Volunteer Ireland Awards are the major annual initiative to celebrate volunteers in Ireland. The awards shine a light on the remarkable achievements of volunteers around the country by honoring them at a national level.
Every volunteer that is nominated will receive a thank you card from Volunteer Ireland. We want to let everyone who is nominated know that their contributions are greatly valued and that someone took the time to put them forward for an award.

Awardees' volunteer stories will be shared across social media channels and with local and national press. By sharing these incredible volunteers' stories we are honouring their contribution to Irish society and also inspiring others to get involved.
South Dublin Community Volunteers
The Community VoLunteers have supported 5 Community events in September; the Lucan Festival, Glenshane Family Fun Day, Rathcoole Community day, the Foroige Awards and Tallaght Recovery Month 5k run.
We are so happy to have our wonderful new Community Volunteers's bus to help us to bring volunteers to events all over South Dublin.
If you're interested in joining the Community Volunteers or engaging the team to support and event please check out the details here.
Reminder to Meet the Team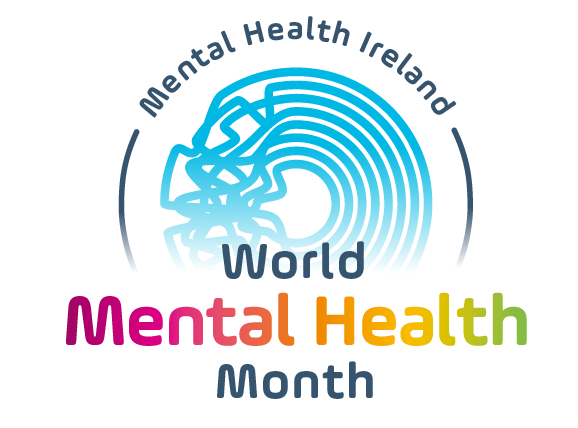 World Mental Health Month takes place this October and October 10th marks World Mental Health Day. The 2023 World Mental Health Day theme "Mental Health is a Universal Human Right"
The Five Ways to Wellbeing are simple actions to practice each day to maintain or improve our mental health and wellbeing.
Do Good – feel Good: Volunteering is good for you

Connect
Make time each day to Connect. Connect with the people around you. With family, friends, colleagues and neighbours. At home, work, school or in your local community. By staying connected and nurturing these relationships we feel happier and more secure, giving us a better sense of purpose.


Be Active
Look for ways to be active everyday. Go for a walk or a run. Step outside. Cycle, play a game, garden or dance. Discover a physical activity you enjoy which suits your lifestyle and level of mobility and fitness. Research has shown being physically active can improve your mental health and wellbeing.


Take Notice
Be aware of the world around you and what you are feeling. Be Curious. Catch sight of the beautiful. Notice the changing seasons. Savour the moment whether you are walking to work, eating lunch or talking to friends. Pay attention to the present moment – to your thoughts, feelings and to the world around you.


Keep Learning
Try something new. Rediscover an old interest. Sign up for that course. Cook a new recipe. Take on a new responsibility. Setting yourself a new challenge and learning a new skill will increase your confidence which can improve your mental health and wellbeing.


Give
Giving to others is good for you. Do something nice for someone else. Thank someone. Volunteer your time or join a community group. See yourself and your happiness linked to the wider community can be incredibly rewarding and create connectedness with the people around you.
Volunteering and Job searching: Things to know.
Below are a few points to take note if you are volunteering and job searching;
What skills do you have? Do you want to develop new skills? Think about what kind of skills you have and how they can be put to use and developed
How much time can you give?– Volunteering is a great way to improve your chances of employment but it needs a commitment. Think and plan on how much time per week you are willing to commit before searching for a volunteering opportunity
Would you like to try a new career? Volunteering is a great way to try something new and see if you like it. Make an informed decision on what job to consider
Do you require References?-Through volunteering you can get references that you can use for job searching in Ireland
Our Mission:

To offer equal opportunities to all sections of the community to participate in meaningful voluntary activity. 

We can be contacted directly and will get back to you promptly.
Contact a member of staff today with your questions and/or queries or arrange a meeting